Note: as of the release of iPhone 12, all iPhones have different screen resolutions and icon placements. It's a bit tough to keep up, so I'm now doing these on-demand. If you don't see your specific device below, please let me know in the comments.
This wallpaper uses actual sprites from Pac-Man, and is probably as close to exact as you can get it. Here's what it looks like on my phone: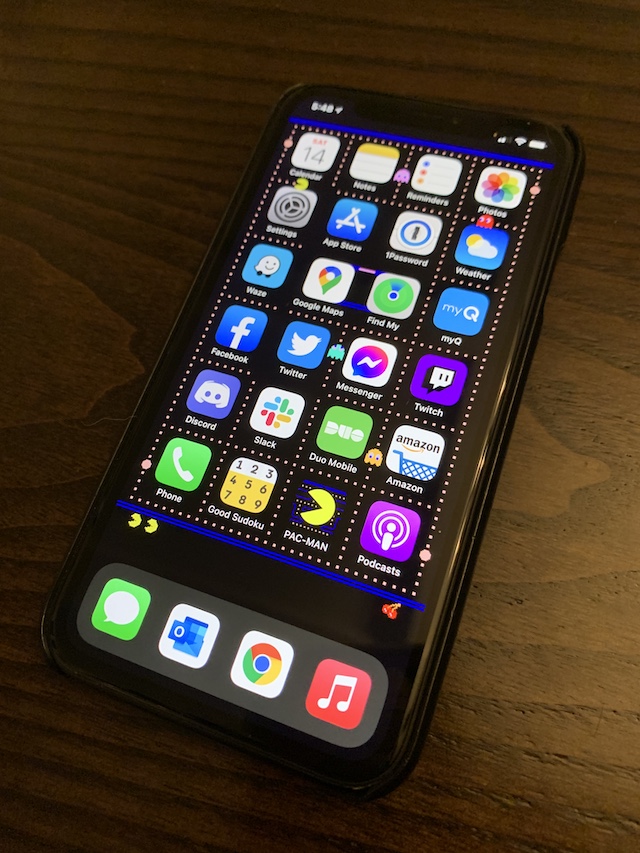 Instructions for use:
Tap through to the following images, and tap and hold to "Add to Photos" or "Save Image"
From your Photos app, go to the new image in your Camera Roll and press the lower-left Share button
Choose "Use as Wallpaper"
Zoom out as far as possible by pinching inward
Choose "Set", then "Set Home Screen"
I've made a few variations – one with no ghost home, one with no top/bottom border, and one with neither. But you can also download the PSD (XR / 11, 11 Pro, XS Max / 11 Pro Max, SE 2nd, 12/12 Pro, 12 mini, 12 Pro Max) to make your own.
---
The following links are for iOS 9 to iOS 13:
---
The following links are for iOS 8 to iOS 7:
---
The following links are for iOS 6 to iOS 4.2:
P.S. – the iPhone 4 versions are not just upscaled versions of the iPhone 3GS ones – Apple knocks each icon down by a single pixel once it's twice as big, so I had to nudge each wallpaper down by 1.
---