One day I was walking around a bookstore and I came upon Regis Philbin's autobiography. I flipped through the pages and noticed a pattern – at least one sentence per page was fully capitalized. Upon closer inspection, I noticed it was because he was trying to convey the feeling of yelling to get his (intended as hilarious) viewpoint across.
So okay, I decided to pass off Regis Philbin as a bad writer. But I notice that those around me are engaging in a similar practice, yet they are using the powers of technology to mask this insidious deed! Yes, they are italicizing their words instead of capitalizing them.
And so, I humbly request that you, my dear friends, please consider letting silly topics like "monkeys" or "pirates" flow freely through your work, unhinged by the dastardly <I> tags, or simply ceasing to be clever completely. If your friends are really looking for a laugh, they'll brush up on their reading comprehension and take it upon themselves to find your bouts of hilarity, rather than having the hilarity find them.
I love xkcd but I have never seen this one before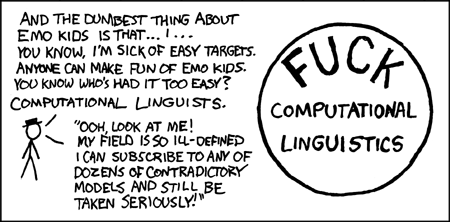 http://xkcd.com/c114.html
Thaaaaat's me!
All right I am going to Coachella! I have a ride as of now (thanks shotwithdiamond!) but still if anyone's up for going with me I might still drive by myself. I know Jocelyn might.
Gosh so today I spent a great number of hours playing 4-player Company of Heroes in the dorms and upping the difficulty more and more. We still suck (we win pretty well with four people against two normal enemies as of now) but hey I'm actually enjoying playing an RTS!
Also someone said they noticed me using LJ in class but hey guess what I just got all of my latest assignments back and I got an A in all of them! So thanks for your concern.
My statement of purpose is shaping up! Still like 5 more edit runs to go.
Also I am going to start going to the gym twice a week doing that Adopt-A-Slug program. If you've seen the poster, my friend Nico is the muscular slug and I am the shlumpy slug who looks fascinated by the concept of weights. But by the end of the quarter I expect to increase all my weight maxes and reps and all that jazz.
edit and then we stayed up until 3AM playing 6-player Halo CTF!
I'm totally serious. Tickets went on sale today and if I can find just ONE person to come down there with me, I'm going. Here's the deal:
Room for 3 other people in my Acura Integra
Leaving on Thursday, April 26
Coming back on Monday, April 30
$249 for a 3-day pass
$45 for a per-person camping pass
All Ages
This will be my first year going but I think I can handle it. It's in the desert, so liquids are an issue. This line-up is once-in-a-lifetime. I'm looking for people to commit by next weekend. I'm going to be asking a few of you personally but if ANYONE is interested in going to this, please please please speak up.
All righty, I got a Vista Business DVD from Baskin Engineering and now I'm rockin' Vista on both computers. And everything works wonderfully! That is, my computer has not burst into flames yet.
I might go. The whole thing is a bit crazy for me and I don't really enjoy energetic public places for way too long but if I can go with a good group of people then it's totally worth it. I'm looking forward to these guyz this year:
Cornelius, Air, Of Montreal, Arcade Fire, LCD Soundsystem, Björk, Benny Benassi, Brazilian Girls, The Good The Bad And The Queen, Decemberists, Paul Van Dyk, !!!, Red Hot Chili Peppers, Gotan Project, Rage Against the Machine, Interpol, Blonde Redhead, and DJ Shadow.
Here's the full lineup. oh wait that's last year's.
Here's this year's:

Dang so I just did my GRE, which was fun mostly because I got to drive over the summit into San Jose and back in the midst of no traffic. It was computerized, so I was graded instantly… and I sort of did the reverse of what I thought I'd do.
Verbal: A disappointing 530 :(
Quantitative: An exciting 680 :D
That 530 is down from 720 verbal when I took my SAT! Soooo… I might take it again after some extensive vocab practice. I did pretty badly with all of the vocab questions from what I can tell. But if I take it again I might do worse on quantitative… do they just submit the best individual scores? Maybe it depends for each school?
Whatev! Oh also I'm not single right now.