Update: my extension is no longer being maintained. Please use this one instead.
I'm a big fan of Media Bias/Fact Check, a site that categorizes many popular news sources into categories across the political spectrum, as well as those that don't fit into that spectrum. Thanks to Facebook and other social networks, people are constantly bombarded with false, partisan, and low-quality reporting, which causes them to retreat into their comfortable bubbles where facts are less important than what their side wants to hear. MBFC, an independent site run by Dave Van Zandt, uses a precise methodology to help make people more aware of these issues!
I do find it a bit inconvenient, though, to have to consult the website every time I come upon a new news source to get a feel of what its intentions might be. That's why I've created the Official Media Bias Fact Check Icon, which you can install into Google Chrome or Firefox right now: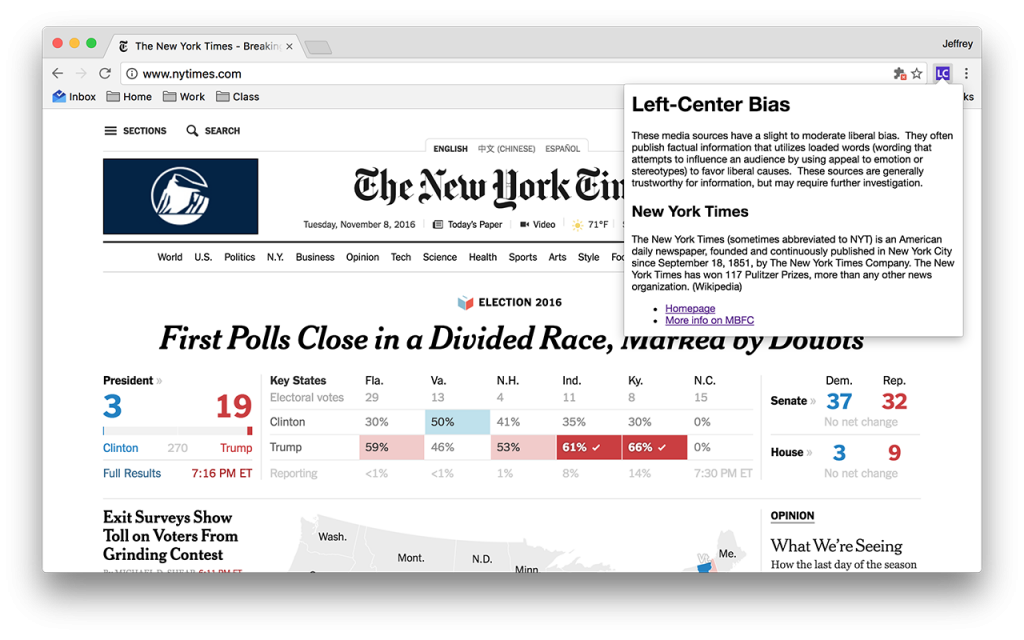 A little icon will show up next to your address bar whenever you're on a site within MBFC's database. Click it to read about the bias of the site you're visiting, as well as any notes about the specific source itself. You'll see these icons:
 – Left Bias
 – Left-Center Bias
 – Center (Least Biased)
 – Right-Center Bias
 – Right Bias
 – Pro-Science
 – Conspiracy-Pseudoscience
 – Satire
 – Questionable Sources
Under the hood, this extension pulls data from JSON files that I create by occasionally crawling MBFC, and matches the current domain to what's in these files. In case you're concerned that this extension is doing anything more than that, I've open-sourced the components:
I hope this extension serves useful! I'm sure many would have wanted something like this months ago, but MBFC itself has only existed for a little while! Enjoy!